Jean DeLavoye
1654-1724

Jean DeLavoye was born in 1654 in Aytre (St Etienne), Aunis, France, son of Pierre Delavoye and Elisabeth Grignon, and died September 1724 at 70 years of age. in St-Augustin-de-Desmaures, Portneuf co., Quebec. He was baptized on 2nd April, 1654, in Aytre (St Etienne), Aunis, France.

He enters into a marriage contract on September 03, 1690, with Barbe L'Homme, before notary public Francois Genaple
At the age of 36 years, he married (1) Michelle-Marie-Barbe L'Homme, 20 years of age, on November 28, 1690 in Neuville, Portneuf co., Quebec, daughter of Michel L'Homme and Marie Valade. Barbe L'Homme was born before July 03, 1670 in Sillery, Quebec, and died August 26, 1711 in Hotel-Dieu, Quebec, Quebec.

He was granted a piece of land in the Seigniory of Villieu in February of 1694. Not sure if he actually lived there since no improvements seem to have been made on it, if we go by the land sale dated 15 June 1700 before notary Chambalon.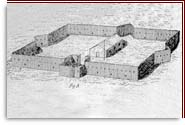 Jean was a soldier in the Quebec garrison on the 4th Oct 1684 and 14th February 1685. Later he was posted to the Chambly garrison in 1690, at about the same time that a second fort was being constructed in Chambly to replace Fort St Louis shown here. The first fort had been built in 1665 and was deteriorating with age. This second fort was, however, accidentally burned to the ground in the winter of 1702, and had to be rebuilt all over again!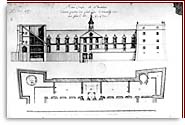 Here is a sectional plan and elevation of part of Fort Chambly, as it existed in 1710.
Josué Dubois Bethelot de Beaucours, National Archives of Canada. C-15990





See Parks Canada, Chambly for more information on the history of Fort Chambly.

Following his marriage to Barbe L'Homme, (before or after his posting to Chambly? ) we see him stationed in Quebec city again, then Cap-de-la-Madeleine. He had at least six children born from his union with Barbe L'Homme:
Marie-Madeleine born in Saint-Augustin on the 15th September l691 who later married René Demers in 1714,
Marie-Angélique born in Saint-Augustin on 18th October 1693 and later married to Gabriel Dion in 1716,
Marie-Louise, born in Tilly on 28th February 1696 and married to Gabriel Maranda in 1728,
Jean-Baptiste born circa 1698 and married in 1727 to Marie-Catherine Aubry,
Marie-Antoinette born on 23rd January 1701 at Cap-de-la-Madeleine and married in 1724 to Jean-Gilles Monier,
Joseph born on 22nd August 1705 at Cap-de-la-Madeleine.