Antoine (Ti-Toine) Lavoie
1891-1973



It's hard to describe people close to you, even if it's only a short history.

Who were Antoine Lavoie and Marie-Anne Pilon? What kind of people were they? How did they affect our lives??

A lot of the information was supplied to me by my uncles J-Paul and Lucien Lavoie as well as my aunt Claire Lavoie-Bernier, and they deserve a big thank you for supplying photos and recalling stories about the parents they loved so much.

My grandparents were religious, moral, simple, charitable, hard working people, who devoted their entire lives to the welfare of their family. To them, life was family, nothing else mattered.

But let's start from the beginning.

Antoine Lavoie, was the son of Antoine-Abraham Lavoie and Phélonise Lafleur. He was born on the 18th of July 1891 in Ottawa, Ontario, and was baptized on the 26th of the same month, at the Notre-Dame basilica in Ottawa, Sussex Drive. His godparents were Jean-Baptiste Blais and Ida Bigras. He was part of a family of 9 children of which 5 survived the delicate years of infancy, 3 girls and 2 boys. His sisters were Marie-Louise, Rose-Délima, Lucia, and his only brother Wilfrid (Ti-Pit)

According to the 1901 census, little Antoine " Ti-Toine ", aged 9 years, was already completely bilingual (writing, reading, and comprehension). As a matter of fact, the idea of being fluent in French and English was extremely important to my grandparents and subsequently to my own parents.

It would seem that Antoine loved sports, as is usually the case with boys his age, and as can be seen from the photo of the hockey player above. He also loved to swim and would make his way to the "sandpit" off Hemlock Rd. near the Beechwood cemetery for a nice refreshing dip during the hot summer days. Later, after retirement, and having more time on his hands, he would love to go camping with his sons in the Pontiac Area, Black River, Cayament, Thon, Lake McGregor, etc.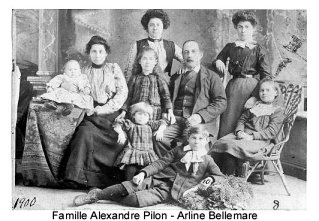 At the tender age of 22, he decides to marry, and his chosen one was a girl by the name of Marie-Anne Pilon, 21 years of age, daughter of Alexandre Pilon and Arline Bellemare.

Marie-Anne was born on the 24th March 1892 in Ottawa, and her baptism was celebrated the same day in the church of St-Francois d'Assises in Ottawa, Ontario. She was the seventh child from a family of ten. Here she is seated in the chair at the right, in this photo which was taken in 1900.






The two love birds celebrated their marriage on the 21st September 1913 at Notre-Dame basilica on Sussex Dr. in Ottawa. In the same year, this photo was taken of Marie-Anna and her sister Nellie, both seamstresses working for a tailor, probably on Bank Street, in 1913. Marie-Anne continued to do this type of work for quite a few years more following her marriage.



During the initial years of their marriage, Antoine and Marie-Anna would share their apartment with Antoine's brother, Wilfrid (Ti-Pit). As a matter of fact, Ti-Pit would stay with them during the years 1913-1914 at 47 Baird St in lower town.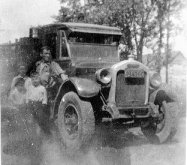 This was surely due to financial reasons, another way to make ends meet.

At that time Antoine had a job as a teamster, an occupation that he would hold for most of his life. He was also a journeyman worker, foreman at the Morel Bros. Company, and during the years 1920-1960, he would find work with companies such as Grand Trunk, CNR, Mahoney & Rich, and finally Hurdman Bros.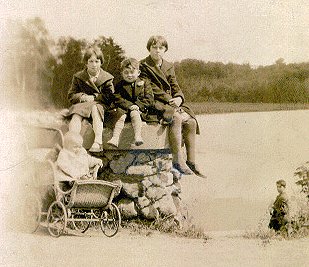 The young couple, Antoine and Anna, didn't waste any time in starting their family, and it was but 10 months later, that is the 21st July 1914, that Anna gave birth to their first born, Edgar. Then followed Laura, Lucille, Victor, J-Paul, Lucien, and finally Claire. On this photo taken circa 1929, we can see J-Paul (carriage) seated left to right were: Laura, Victor, Lucille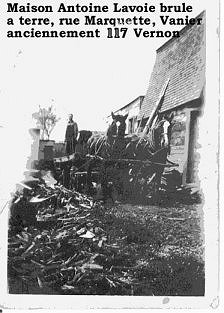 Antoine and Marie-Anna lived at different places during the initial 13 years of their marriage mostly in lower town. Then, in 1917, they decided to move to the East side of the Rideau river to Eastview.

Eastview was a small village just formed in 1909 by the union of an English speaking sector called Clarkstown and a French sector called Janeville. Its population then was 3000.

Antoine and Anna lived initially at 111 Vernon, (today called Marquette St), then on to 117 Vernon. It was here that in 1927 a fire broke out and engulfed the entire building. Houses were called match boxes then because of the way they were built, all clapboard, no paint and basically a tinder box. They lost most of their belongings and had to start anew at 48 Kingsley St. (today Genest St) where they remained for the next 2 years. During that time, Antoine purchased 4 lots from the municipality. Each lot had an area of 40' X 100' and cost $50 per lot. Sounds like quite a bargain today, but I'm sure it was a lot of money to them then. It's been said that Antoine had an advancement of funds given to him by his mother Phélonise Lafleur, who, it appears, "had money". Antoine built himself a 2 storey house at 131 Geneva St (today 24 Joliette St). His family was still growing and he needed a bit more living space. The other 3 lots were meant for each of his sons because they were soon to become adults of their own. Those lots are today located at 24,26,28, and 30 Joliette St. The only son not to receive one was Lucien, most likely because of his age. He was too young still. Later, Lucien would receive permission from his father to built his own house in the father's back yard at 24 Joliette St. Each of the sons had to make a monthly payment to their mother Anna until the price of the lot was fully paid for. The lot at 24 Joliette was designated as the patriarch's lot, 26 was for J-Paul, 28 for Edgar, and 30 for Victor. I heard that Victor was unable to continue the payments and the lot had to be sold (Lefebvre family?). Victor eventually bought himself another lot at 242 Garneau St.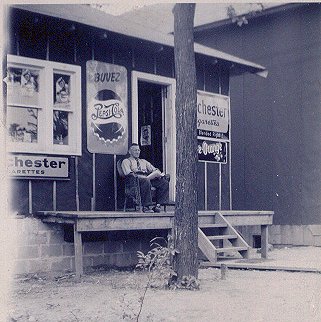 There was a period during the 1950's where Antoine found himself without work. But since unemployment insurance didn't exist then, one had to find a way to bring in some income. Anna suggested they start their own corner store. It was first located at 26 Joliette and subsequently relocated to 24 Joliette. The store only lasted for a few years. Antoine didn't have the patience for this type of work.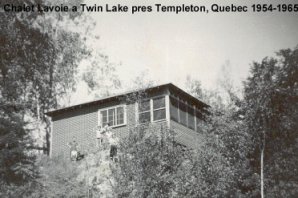 All of the children are unanimous in saying that the brains of this family belonged to Anna. It was she who talked Antoine into starting a store, and it was also she who convinced him to buy a cottage where the kids could enjoy the water and clean air. The cottage was situated at Twin Lake near Templeton, Québec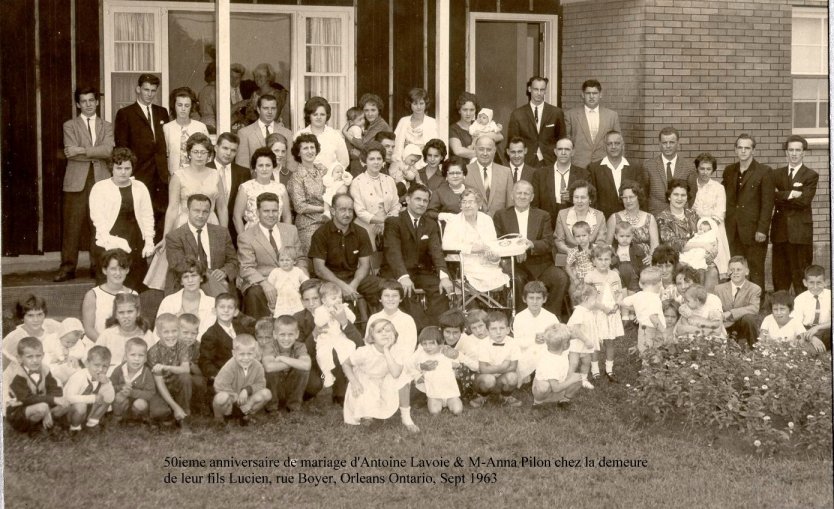 The family celebrated their 50th wedding anniversay in 1963 at Lucien's new home on Boyer St. in Orleans, Ontario. Everyone was there. We had a wonderful time.

Years go by, children leave the nest, and the grandparents become older. Anna came down with diabetes, and it took multiple amputations on her two legs before the doctors were finally able to bring it under control. When I was still quite young, I would pass beneath their 2 storey window on my way to class, and I could see them throwing kisses at me and wanting to know how things were going with me. They loved it when their family visited, even though there was always someone there with them, every day. They were my godparents and I loved them very much. Eventually each one of us has to leave this world, when our time is up. Antoine died on the 20th January 1973 at the age of 81 and grandmother Anna followed him 6 months later. She didn't want to remain with us now that her Ti-Toine was gone. She died on the 16th June of the same year, also at the age of 81

Children of Antoine Lavoie and Marie-Anna Pilon:
Antoine-Edgar Lavoie, born on the 21st July, 1914 in Ottawa, Ontario; married to Eugenie Trepanier, died 30th October, 1998 in Ottawa, Ontario, buried in Ottawa, Notre-Dame cemetery.
Laura Lavoie, born on the 22nd September, 1916 in Eastview, Ontario; married Donat Trepanier, died 16th December, 2002 in Maniwaki, Quebec, buried in Gatineau (St-Redempteur cemetery), Québec.
Lucille Lavoie, born Eastview (St-Charles), Ontario. She married Thomas Stokes in Toronto, Ontario and is living in Georgetown, near Toronto.
M-Irene Lavoie, born about June 1922 in Eastview (St-Charles), Ontario; died 23 June, 1923 in Eastview (St-Charles), Ontario. She was buried on the 23rd June 1923 in Ottawa (Notre-Dame cemetery)
Victor Lavoie, born 15th April, 1924 in Eastview, Ontario; married Aline Whissell, died on 29 March 1969 in Ottawa (Montfort Hospital), Ontario, buried in Ottawa (Notre-Dame cemetery)
Jean-Paul Lavoie, born in Eastview, Ontario, where he still resides today. Married Solange Morin,
Lucien Lavoie, born in Eastview, Ontario. He married Francoise Valiquette in Eastview(St-Charles), Ontario. He now resides on a farm near the Double-D Ranch on highway 17.
Marie-Laura-Irene Lavoie, born in September 1931 in Eastview, Ontario; died 2 months later, the 30th December, 1931 in Eastview, Ontario. She was buried on the 31st December, 1931, in Ottawa (Notre-Dame de Lourdes Cemetery), Ontario
Claire Lavoie, born in Eastview, Ontario. She married Yvon Bernier.